Feel Japanese Communication style
Lately I am trying to feel how Japanese people grow up in old era. Why does Japan grow up even Japan is small coutry? Here is one of my answer.
Feel what you think or what you want
In other word, Nonverbal comunication style. I guess this is the one of key for growing up such big country. It is based on human moral. Last week I met one of unique communication style at Aoiuminokai(Blue Oceans) in Oita city.
There is something people want to do.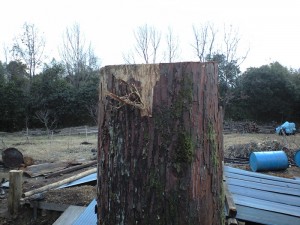 This picture tells one meaning to someone. Can you guess what it means?
I want to rip out this wood skin.
The reason for ripping skin out is avoiding from bugs. We want to use the wood post long time. If we don't rip out the skin, it will go bad fast. So, Who will do that? No one knows. When you look at the wood, you can see the signal. Can you see it? The man knows or feel someone will do it later. He does not say it in word. Just leave it. yeah, yeah, it will take time maybe. But it is ok for him.
Think Yourself
This is the key. Telling is easy to go. But once he or she stops, what happens next?
Be Strong!!
That is what I learn from them.
Related posts: