Face to Bamboo in Oita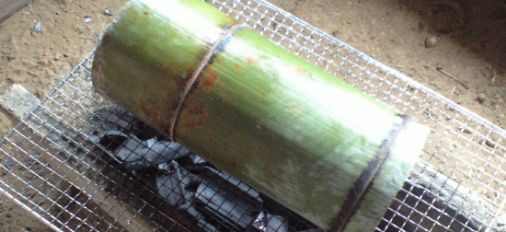 I have decided to learn about bamboo such as smoking and cutting. I know it takes some times but it is needed in Japan. Today, I have talked to Mr.Kojyo who is main person of NPO. He said there is a huge distance between elder who knows how to live with nature and younger age who does not know how to survive with nature. This mean Japanese people will face to a big problem in the future especially taking care of our nature. Nobody can not take care of our forest at all. Here are what I have learned from Mr,Kojyo.
No young age to take care of forest
Bamboo can use for anything and it was used for all in old era.
This issues are big problem in any other world. I guess. So, I have decided to learn something at least from Mr, Kojyo. These are my next steps for bamboo.
Cutting Bamboo
Smoking bamboo
creating vase or candle cases
bamboo liquid
Bamboo Liquid
A couple weeks ago, I used the liquid for my finger because it has itch. But now it is ok. It heals with new skin. But it take a long time and has strong smell. This smell is too strong. So, it needs to be fixed if people use for medical.
Related posts: